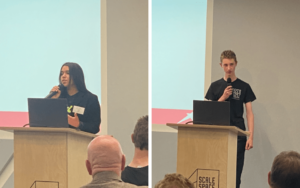 Supporters and young people gathered to celebrate the beginning of work on WEST Youth Zone.
Hosted by chair Mark Davies at Scale Space in White City, guests were given an update on the project and a special insight as to what this amazing place will bring to the Hammersmith and Fulham community.
Phillipe Andreewich, a member of the WEST Young People's Development Group spoke passionately about what he believes a Youth Zone will bring to the borough.
He has had the opportunity to travel to other Youth Zones across the network and also represents OnSide as a young ambassador.
"WEST Youth Zone here in Hammersmith and Fulham is a future for young people," he told those present.
"I believe in the potential OnSide has in store for young people. When OnSide means access to highly trained and endearing youth workers who help to build the leaders and pioneers of tomorrow through moral and career support, to me, that's potential.
"When an OnSide Youth Zone means a safe and nurturing environment, a shining light in the dark blizzard of stress and boredom, in which this generation finds itself, in its ceaseless search for purpose in our rapidly evolving world. To me, that's potential."
As well as Philipe, guests also heard from another inspiring young person, 15-year-old Ines Lopes who credits Unitas Youth Zone in Barnet for changing her life.
She told her story which involved her moving over to England from Portugal without being able to speak English and how, after joining Unitas last year, it not only helped her make friends and feel at home but unlocked passions ranging from boxing to stock markets and from the gym to media.
As well as Phillipe and Ines, other speakers included Phil Marsh, Openings Manager from OnSide who will lead the charge for WEST Youth Zone in community engagement and working with young people ahead of opening.
Mark Sorrell, from WEST funders Goldman Sachs, also spoke about why he wanted to become involved with WEST and how a trip to Wigan Youth Zone with Mark Davies blew him away. He urged everyone in the room to get behind WEST and support however they can.
Following the speeches, guests took walking tours of the site and were able to speak with a number of young people from the WEST Young People's Development Group, Unitas Youth Zone and OnSide's young ambassadors.
A special thank-you goes to GSK for their incredible support of the event and enabling us to bring so many special supporters of WEST Youth Zone into one room.