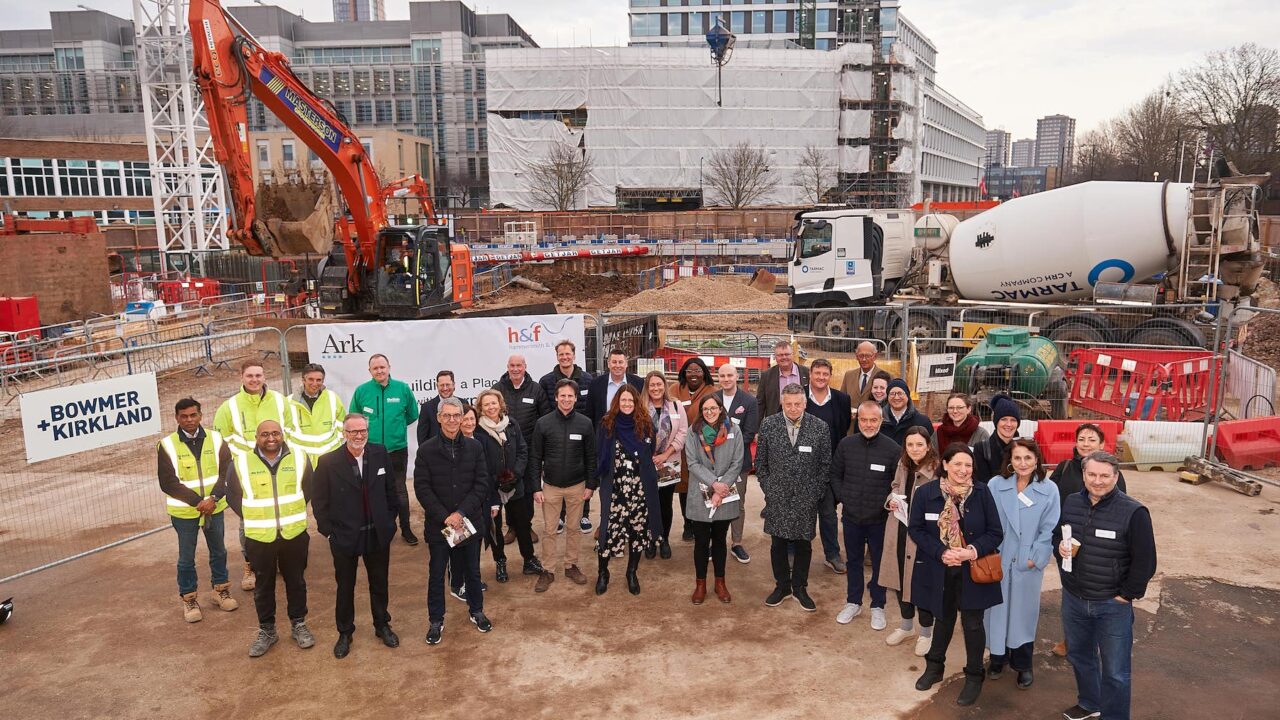 Supporters of WEST Youth Zone were welcomed onto the construction site for a sneak peek at progress being made.
Guests were given an update by WEST Chair Mark Davies and OnSide Deputy Chief Executive Rob Carter about the project and Hammersmith & Fulham Council Leader Steve Cowan also spoke about why he believes the Youth Zone will transform lives.
WEST (which stands for Where Everyone Sticks Together) was given its name by local young people.
Once open, the Youth Zone will offer a range of weekend and evening activities and opportunities with facilities including a four-court sports hall, arts and crafts area, climbing wall, music room, dance studio and much more, all for just £5 annual membership and 50p per visit.
Also on site were representatives from Ark, including chief executive, Lucy Heller, to see the progress being made on the wider EdCity scheme which the Youth Zone is a part of.
Mark Davies, Chair of WEST Youth Zone, said: "We were delighted to welcome our wonderful supporters to the site and to see the great progress being made. EdCity is such an exciting project and we are really proud to be a part of it. WEST will transform the lives of thousands of young people, giving them an opportunity to find new skills, make new friends and seek support from dedicated youth workers."
The scheme is being delivered by EdCity Development Ltd (ECDL) and funded by Hammersmith & Fulham Council and Ark, a national education charity with nine schools in West London.
The scheme will bring significant improvements to the neighbourhood and include:
a new, modern building for a new Ark primary school bringing together Ark Swift Primary Academy and Ark Burlington Danes;
132 new affordable homes in an area of high housing need;
a state-of-the art OnSide Youth Zone called West providing activities and opportunities for local young people;
a new building for Harmony Nursery;
an expanded adult education and community learning centre providing training and learning opportunities for local residents;
a new 100,000sq ft office space for up to 1,000 jobs and a new permanent home for Ark and other organisations and businesses;
a new landscaped public square with a pedestrian and cycle route, directly linking existing residential areas to the redeveloped White City business and transport hubs.
Work to clear and prepare the White City site began in the summer last year and construction work is being carried out by Bowmer & Kirkland. The completion of the first phase, including the opening of the new school, is due in September 2023.
Ark CEO, Lucy Heller, said: "It is exciting to mark this moment at the start of construction of the new school and other community facilities. Ark has been part of the White City community for many years, and this development will bring tangible benefits to all."
Hammersmith and Fulham Council Leader Cllr Stephen Cowan said: "This project will deliver, for people of all ages in White City, the very best in education and training – to give them access to the most amazing business start-up and rapidly emerging hotspot for STEM, medicine, and media enterprises. This project brings tangible benefits to the local community, with a new school and nursery, a Youth Zone and improved adult education services. There will be new, affordable homes for local people, improvements to public areas and jobs will be relocated here. That is why we made a multi-million-pound investment, and I am delighted the work here is now under way."
EdCity is an exciting addition to the White City Innovation District and was recently recognised in Upstream's Impact and Innovation 110 organisations, The prestigious list highlights science, technology, and creative businesses such as Imperial College Healthcare NHS Trust, BBC Studios, The Royal College of Art, and Novartis UK, all local to Hammersmith and Fulham who are making a positive impact in their field.