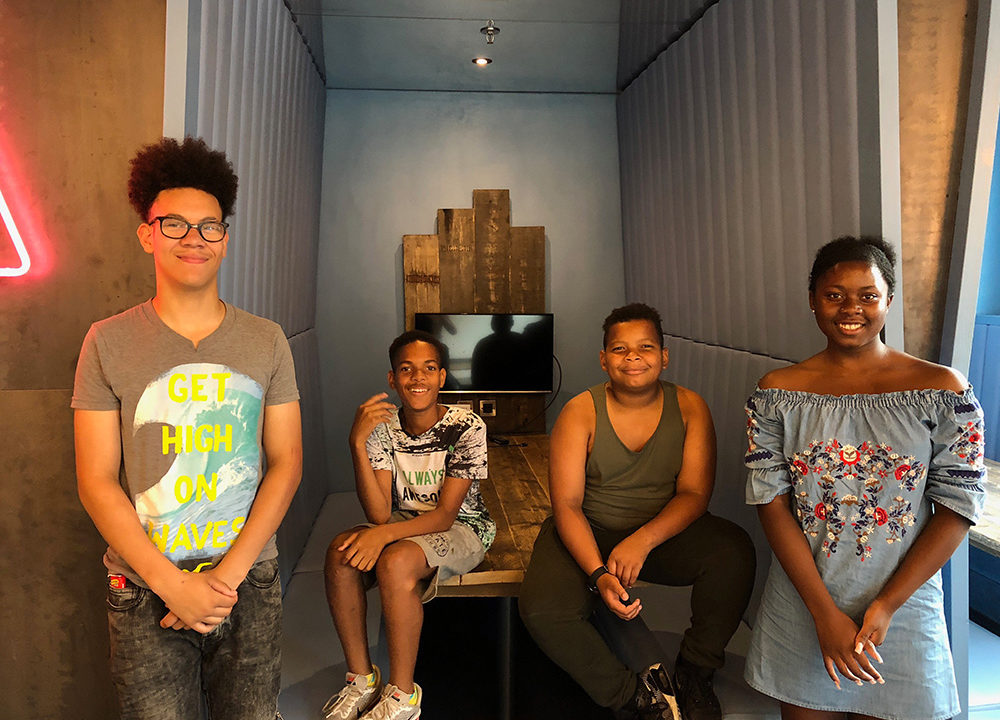 With news that OnSide is set to open a Youth Zone in the London Borough of Hammersmith and Fulham, we've set up a Young People's Development Group in the area.

This fantastic group will work with the charity to help us understand exactly what issues young people in the borough are facing to enable us to ensure we give them the best possible offer when their Youth Zone opens.

They will also work with OnSide to come up with the brand and identity for the Youth Zone, to promote the facility across Hammersmith & Fulham, interviewing staff and much more. They've already spent time visiting other Youth Zones across the network and will get many more opportunities to do that again.

The founding members are Brandy and brothers Tyrek, Tayjean and Trayquarn.

Brandy said: "We meet up every week and talk about Youth Zones as well as presenting to other groups in the local area as well as going on residentials."
Trayquarn said: "I'm really looking to the new Youth Zone opening because I will be able to get involved in different activities that I don't usually do in school."

Tayjean said: "My favourite thing about Youth Zones is everything! It has a music room – I like playing drums – and it's great for kids to have an amazing experience."
Tyrek said: "A Youth Zone in Hammersmith and Fulham will be really good, it will get a lot of young people to get off the streets and into the Youth Zone. I'd tell all the other young people in Hammersmith and Fulham to get involved with the Development Group because it's a great experience."
Hammersmith and Fulham Youth Zone will be part of an innovative education hub, known as EdCity, with a new school, nursery, adult education centre and affordable housing in White City.

The plans will see the site, currently occupied by Ark Swift Primary Academy, Harmony Neighbourhood Nursery and the Adult Community Learning Centre, redeveloped with state-of-the-art facilities for a replacement school, nursery and adult education centre.

In addition, OnSide and the London Borough of Hammersmith & Fulham are working in partnership to develop Hammersmith & Fulham Youth Zone, the first Youth Zone in west London, offering a huge range of affordable activities and inspiring sports, arts, music, mentoring and employability programmes to young people from eight to 19 (and up to 25 for those with additional needs), seven days a week.

The Youth Zone will include indoor sports facilities and a Multi-Use Games Area (MUGA) for basketball, trampolining, cricket, volleyball, badminton, table tennis and five-a-side football. The Youth Zone's facilities will be used during school hours by the new Ark Swift Primary Academy.

If you want to be a part of the Hammersmith and Fulham Young People's Development Group, contact Mark Blundell on 07734889308 or email mark.blundell@onsideyouthzones.org.