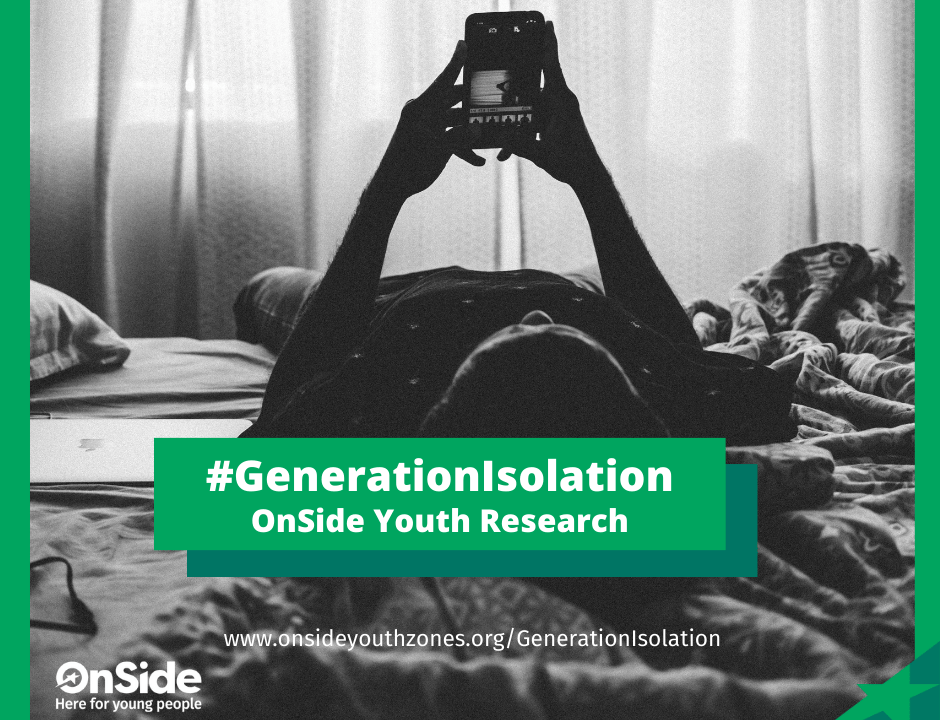 WEST Youth Zone has today responded to findings released by national youth charity OnSide that highlight the impact the cost-of-living crisis is having on the out-of-school lives of young people, as well as the role youth centres play in giving them a way out of this 'cost of living lockdown'.
Generation Isolation surveyed 5,072 young people, of which 536 were from London, aged 11-18 in England, in partnership with YouGov. Many of the findings are startling, highlighting how the cost-of-living crisis is keeping young people 'locked down.'
The report's key findings are:
31% of 11-18 year olds London have stopped out-of-school activities like sport, dance and seeing friends because of the cost-of-living crisis – as families divert funds.
Young people are living isolated lives with an increasing number of young people London spending most of their free time on screens*, and 44% of young people spending most of their free time in their bedrooms.
Young people are living in a challenging context with 73% concerned about the cost-of-living crisis.
WEST Youth Zone says that youth clubs like it are an untapped solution to the issues highlighted in the Generation Isolation report – because they give young people access to vital character-building opportunities and affordable activities that boost confidence, buil skills for adulthood and, through access to trusted youth workers, help them navigate the pressing challenges and worries they face such as the cost of living.
WEST will open next year in White City and CEO Elanor Gunn believes it will be a huge help to young people in the community.
"The report is really concerning and highlights the huge impact the cost of living crisis is having on young people in London," she said. "From giving up hobbies and socializing with friends to worrying about their futures and becoming even more isolated. We need to make sure young people feel supported and have opportunities to express themselves and be around friends in a safe environment.
"The report shows the positive impact youth centres have and we're really excited that WEST will open next year and will play a part in alleviating these stresses. We expect to work with over 4,000 young people in our first year alone. They'll be able to showcase their talents with new opportunities, make friends and have fun."
This is backed up by the Generation Isolation research which shows the positive effect attending a youth centre has on young people. 77% of young people who attend a youth centre in London say it has helped them overcome difficulties and 87% say it allows them to learn new skills.
In addition the research highlights that young people who attend youth centres are better prepared for adulthood than those who don't – just 13% of young people who attend youth clubs said they do not have the opportunity to learn the skills to help them become independent like cooking, managing money, accessing employment, compared to 18% of all young people.
However, there is a lack of widespread opportunity to gain these benefits, with 47% of young people saying they do not have a youth club near them.
WEST Youth Zone will provide young people with seven days a week access to activities, opportunities and support from youth workers for just 50p a session and £5 a year membership.
It opens next Spring but there's already a group of young people in a development group, helping to make a number of key decisions from branding to interior designs and interviewing potential staff members.
One of those young people is Abdulah, 13, from White City who said: "Me and my friends know about the cost of living and the increase in prices of food and heating bills. It's talked about in the news and it has an impact on us. I've noticed that if you want to buy a snack after school the price might be 60p one week and then £1 the next week. That's a big increase.
"My mum gives me pocket money if I behave well and do chores. It's gone down from £10 a week to between £2 and £3.50 because she has to spend more money on food and heating and there are six of us in the family. I never ask for takeaways now because I know they cost a lot of money. Sometimes we have to turn the heating down.
"Specific games I might want to buy are too expensive now and certain after school things like going to a gym or accessing VR clubs would be too expensive. When WEST OnSide Youth Zone opens near us it will be 50p to go in and you can buy a hot meal for £1. At school that would be £2.50 and if you were eating out with your friends the bill might be £15 each. No one can afford that.
"WEST will also be a safe space to meet up. It can be dangerous to play out on the streets. It's important to me to meet new people so you have a big circle of friends to share problems with and have fun with. The Youth Zone opening will make millions of difference to young people in White City."
Lastly, Generation Isolation also highlights the mental health challenges faced by the region's young people. 49% of young people in London report high or very high levels of anxiety**. When asked why, the top reasons were: worries about future (57%), exam pressure (38)%, what people think of them (34%).
To read the full Generation Isolation report, click here.